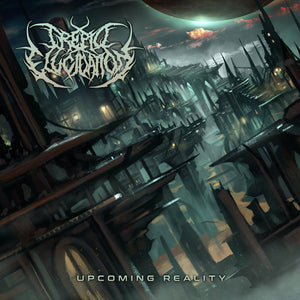 Trepid Elucidation - Upcoming Reality
Sale price Price €10.00 Regular price
Tax included.
Shipping
calculated at checkout.
"Upcoming Reality" is the crushing debut album of progressive technical death metal outfit Trepid Elucidation, from Portugal. The band isn't shy of displaying their influences through the 37 minutes that make the album: you can definitely know they drink from references such as Death, Decrepit Birth, Obscura and Beyond Creation. A tested formula with astonishing results: "Upcoming Reality" is massive in terms of stringwork and the rhythm section keeps up with precision. Take a listen and get this album today!

Great looking jewel case packaging with a four page booklet. Art by Pedro "Lordigan" Sena.
Facebook - Bandcamp - YouTube - Instagram