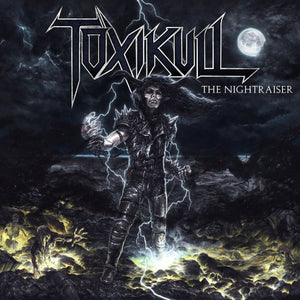 Toxikull - The Nightraiser
Sale price Price €10.00 Regular price
Tax included.
Shipping
calculated at checkout.
"The Nightraiser" is a relentless sonic attack that evokes the best elements that made heavy, speed and thrash metal so popular: impressive vocals, a tight rhythm section, blazing guitar solos and carefully crafted melodies.

Frontman Lex Thunder (also vocalist for Midnight Priest) states about the new CD: "It's an appeal to rebellion and some social criticism. Music-wise, this EP is a bit different from 'Black Sheep' - it's faster, stronger and more aggressive. The influences of the music from the past are also a bit different, this one's a more on the speed/heavy metal side."

Recorded at Ultrasound Studios Moita, "The Nightraiser" features a Hollywood Rose cover ("Rocker"), a demo from the early career of rock n' roll royalty Axl Rose: "I always thought it was a killer tune, living off the spirit of rock n' roll", Lex says. "Unfortunately, this brilliant song never got a proper recording, so we took the chance and did it ourselves, and recorded it the way we wanted it sound".

The pace is high and Toxikull promise to take no prisioners during the promotion for "The Nightraiser". An advance single will be released this month, and an official videoclip will come shortly afterwards.

CD in Jewel case with 8 page booklet with all the lyrics included! Awesome artwork by Velio Josto.
Facebook - Bandcamp - YouTube - Instagram