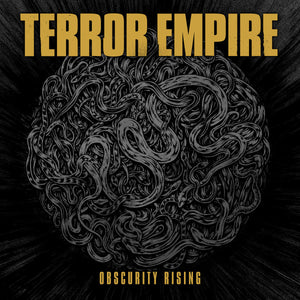 Terror Empire - Obscurity Rising
Sale price Price €10.00 Regular price
Tax included.
Shipping
calculated at checkout.
If you like aggressive thrash with plenty of dynamics, this record is for you. Shamelessly drinking inspiration from the gods of thrash metal from the 80's, and adding their personal modern flavour to the mix, Terror Empire have reached a strong balance with "Obscurity Rising". The riffs are as intricate as pure thrash fans righteously demand, and the rhythmic section adds a brutal edge only matched by the vocals.

Two years after debut album "The Empire Strikes Black" that got high reviews from all over the globe, Terror Empire returns with its best album to date.

Expect a brutal, unpredictable frenzy of thrash metal.
CD in Jewel case with 8 page booklet with all the lyrics included! Awesome artwork by André Coelho.
Site - Facebook - Bandcamp - YouTube - Instagram