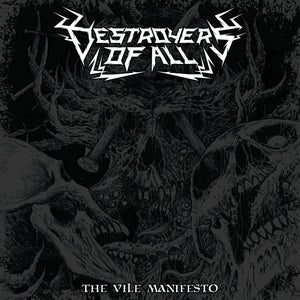 Destroyers of All - The Vile Manifesto
Sale price Price €10.00 Regular price
Tax included.
Shipping
calculated at checkout.
This record will be the third release of the band after the debut EP "Into the Fire" (2013) and the LP "Bleak Fragments" (2016), both critically acclaimed by national and international specialized media.
Charged with vicious riffs, voracious vocals and ear blasting drums, this record sets a new chapter for the band. It pushes the boundaries of heaviness in their sound. As a result, this album is more violent and straight-to-the-point than ever, without losing the creative identity that marks the band's music since its inception.
—-
Destroyers of All is a Progressive Death/Thrash metal band from Coimbra, Portugal, founded in 2011, signed to Mosher Records. The band's sound is a blend of diverse musical influences from various styles ranging from thrash, death, and even black metal, to the hard rock and progressive metal styles. The newest album "The Vile Manifesto" is no exception.
Following the evolution that started with the "Into the Fire" EP (2013) and the first full-length "Bleak Fragments" - both received high praise from reviewers worldwide - the band keeps pushing its own limits even further. "The Vile Manifesto" is their most straightforward and aggressive work to date, without compromising the craziness and the technical edge that always set the identity of the band.
Having played consistently in Portugal and Spain ever since the band's inception, including the most reputable festivals in their homeland, Destroyers of All is available for booking through booking@mosherrecords.com.