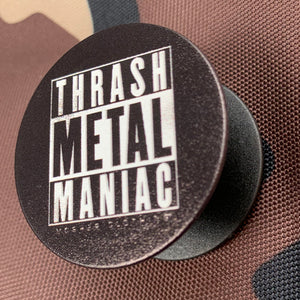 Popping Socket - Thrash Metal Maniac
Sale price Price €4.95 Regular price €9.95
Tax included.
Shipping
calculated at checkout.
The phone rings... "Hello? Who is this?", you say. "It's the moshpit... and I'm calling for you!". How's this for a cheesy introduction to this fine item?
These popping-sockets are EXTREMELY useful for all the phone-aholics out there. Hold it with just one hand and reach the whole area of the screen with your thumb! Avoid EXPENSIVE drops that break screens and enjoy these perfect (and official) Mosher Clothing™️ popping sockets, Thrash Metal Maniac edition  
Don't like where you placed it the first time? No problem! The durable 3M sticker can be moved around a few times... this one's really perfect for you. Check out the other models, too!